FEATURES   •   SPECIFICATIONS   •   WARRANTY


SPECIFICATIONS 

Tomahawk™ Specifications
---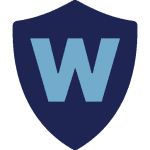 Warranty Specifications

The Tomahawk™ Encoder is a solid-state encoder with no mechanical numerical wheels.  It can deliver an industry standard absolute encoded or scalable pulse output configurable to 1, 10, 100, 1000, 10,000 or 100,000 measurement unit intervals.  It is designed for use with all RG3 meters and retrofit to most other manufacturer's meters (Badger, Master Meter, Neptune, Sensus, Hersey, etc.).  Tomahawk™ provides communication with RG3 Tesla AMR/AMI endpoints and other AMR/AMI technology solutions approved by RG3 Meter Company .
Tomahawk™ is equipped with the largest LCD in the industry for easy reading at a distance of 6 feet. The LCD provides a 10-digit resettable totalizer and a 6 segment leak detector with flow direction arrows. Flow rate is clearly displayed in the applicable unit of measurement.  Leak warnings are shown on the LCD as appropriate.  Battery status is indicated on the LCD along with an early warning flag that informs the user when 20% or less battery life remains.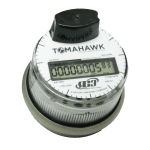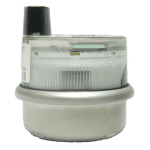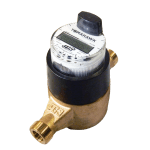 Tomahawk's™ easy connect protected electrical contact exterior screw terminals allow for simple removal and replacement of the wiring harness, eliminating the need for splicing wires and the possibility of associated corrosion.  Screw terminal pins are molded into the engineered poly-carbonate lens and back sealed with a potting compound eliminating any opportunity for moisture intrusion at the connections making Tomahawk™ suitable for installation in all environments, including continuously submerged water meter pits. Tomahawk™ is provided with pre-sized wire harnesses available for field connection or factory wired to RG3 approved AMR/AMI endpoints or a variety of lead wire lengths as specified by the customer. Tomahawk™ installs up to 600 feet away from the controller.  Standardized lead lengths are 5 and 22 feet.
Tomahawk™ is factory programmed to customer specifications, with the option for field programming the unit of measure, the existing read if desired, and the ability to choose between an absolute encoded or pulse output.